Your First Time Skydiving: What To Expect
Tandem Skydiving
Posted by: Texas Skydiving 2 years ago
Preparing yourself for something frequently described as "indescribable" is tricky! If you don't know what you're in for, how on earth can you get your head in gear?
Fortunately, the Texas Skydiving team has not only jumped from a perfectly good airplane 10-or-so-thousand times, but we've also taken a whole lot of people on their first tandem jump and taught a bunch how to fly solo. We have a pretty good idea of what you need to know to help you feel prepared for your first time skydiving –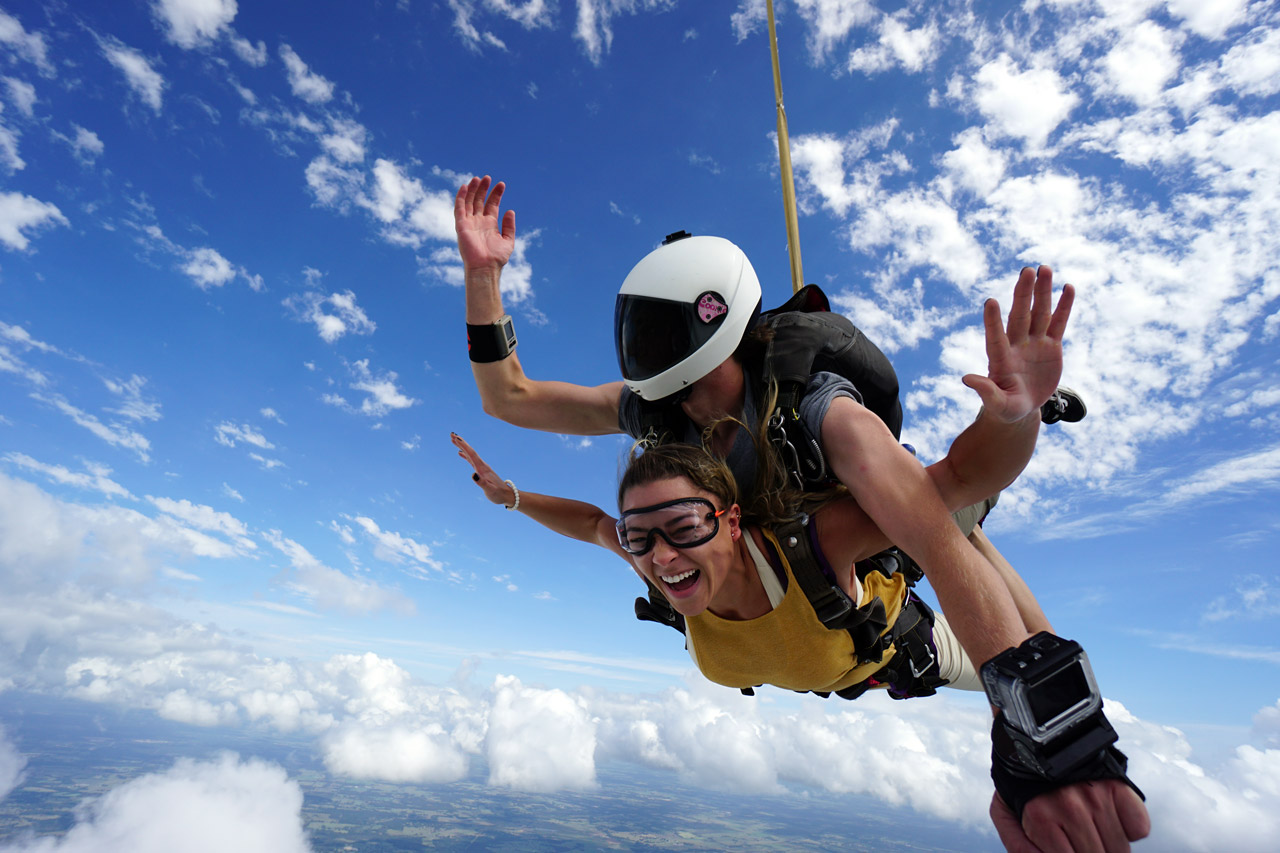 Get Ready: Choose Your DZ
First things first. You want to be deliberate in choosing where you skydive. Proximity is, of course, important to consider, but it shouldn't be top of your list when planning your first skydive experience.
Safety
In skydiving, safety should always be first. At Texas Skydiving, the safety of our students, fun jumpers and staff is our number one priority.
Our team is highly-trained and experienced, and certified by the USPA (United States Parachute Association). Our planes are meticulously-maintained, and our state-of-the-art equipment and gear surpasses the safety standards required by the USPA and PIA (Parachute Industry Association).
Vibe
Skydiving is crazy fun when you're comfortable, confident and empowered – not when you're feeling vulnerable and intimidated. Big dropzones feel chaotic, like you're just a number (because you kinda are).
We're in this business for the love of the sport. TXS is a small dropzone with big DZ amenities and a relaxed vibe. We operate from a private air strip on a real-life ranch. We're intentional about giving folks individual attention and fostering a positive, collaborative environment. Sounds awesome, right? It is …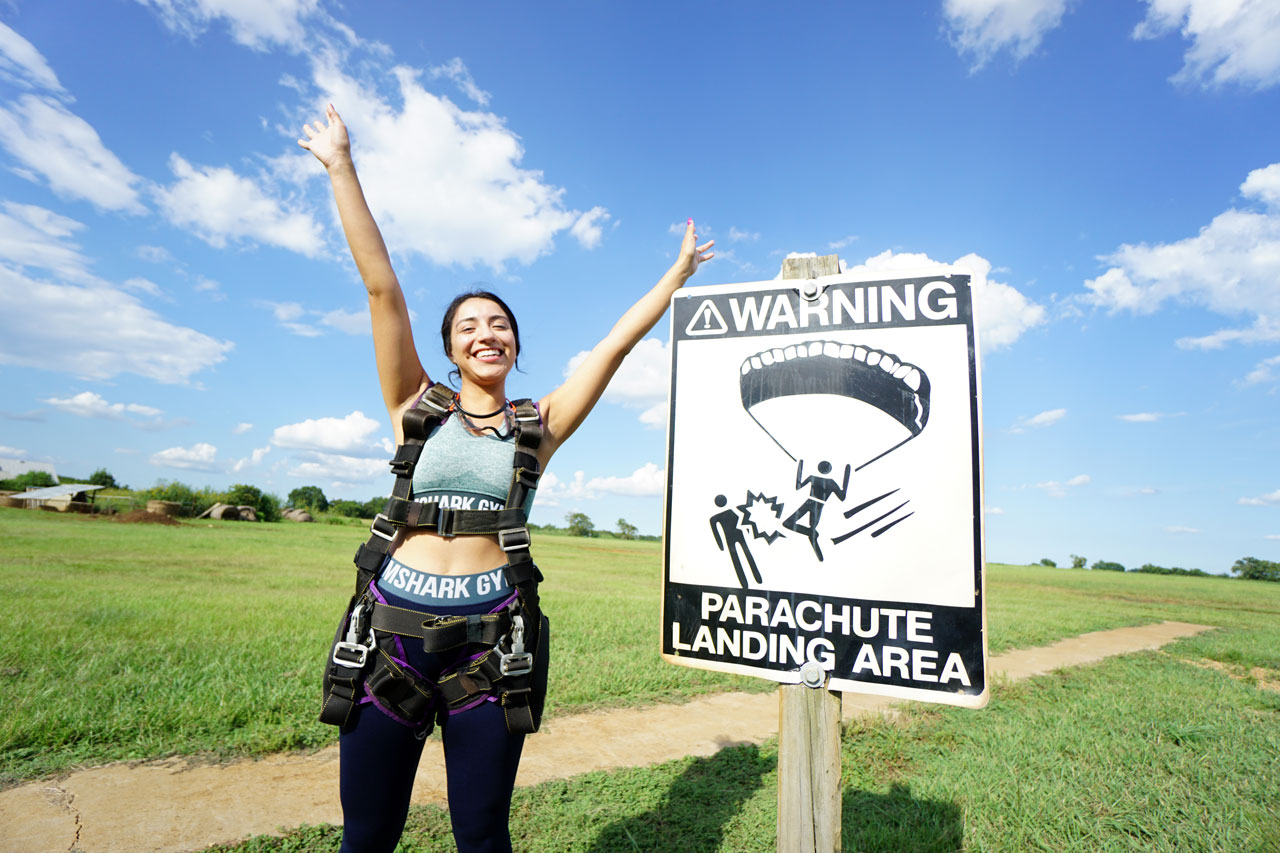 Set: Prepare Body & Mind
The Night Before
Getting ready for your first skydive starts the night before your jump. Skydiving can be life-changing, so you want to bring your best self to the dropzone. Eat sensibly, go easy on the alcohol, and get a good night's sleep. Matter of fact, quit the liquid courage before midnight – there'll be plenty of time to celebrate after your jump! (Word to the wise: if you appear to be under the influence when you get to the DZ, you won't be jumping. No exceptions.)
The Big Day Dawns!
Eat
Second verse, same as the first. Eat sensibly – not too much, not too little – and drink some water. Low blood sugar, dehydration and nausea are all best buds. Keep your breakfast down and your nerves in check by lining your gullet with good food and water. Folks often think that eating or drinking is what makes you feel green around the gills, but it's the opposite that's true.
Wear
The temperature on the ground is warmer than up at altitude. Unless it's summertime, when T-shirt and shorts are fine, plan on wearing layers. Athletic wear is usually ideal from head to toe, including shoes. Tennis or skate shoes, cross trainers or other lace-up shoes are best – no open-toed shoes, sandals, heels, boots, or anything with hooks. Tie back long hair.
Bring
Most importantly, bring your valid, government-issued photo identification! To jump at TXS, you must be at least 18. Sorry; parent permission won't suffice. Bring a cooler too! There's plenty of shade, tables and a grill. Cold drinks are available at the DZ, but not food – grab necessities on the way in.
Once You're Here …
Arrive at Texas Skydiving at your reservation time and plan to spend one and a half to three hours with us. Weather may cause a delay from time to time, so it's best to not schedule anything immediately after your skydive.
You'll check in, sign your waiver, and – if you haven't already – purchase your media package. Sounds like a classic upsell move, we know, but listen: get. the. video. The number one regret we hear from first-time jumpers is that they wish they'd gotten video. You only jump for the first time once – don't miss the opportunity to see yourself accomplish something extraordinary!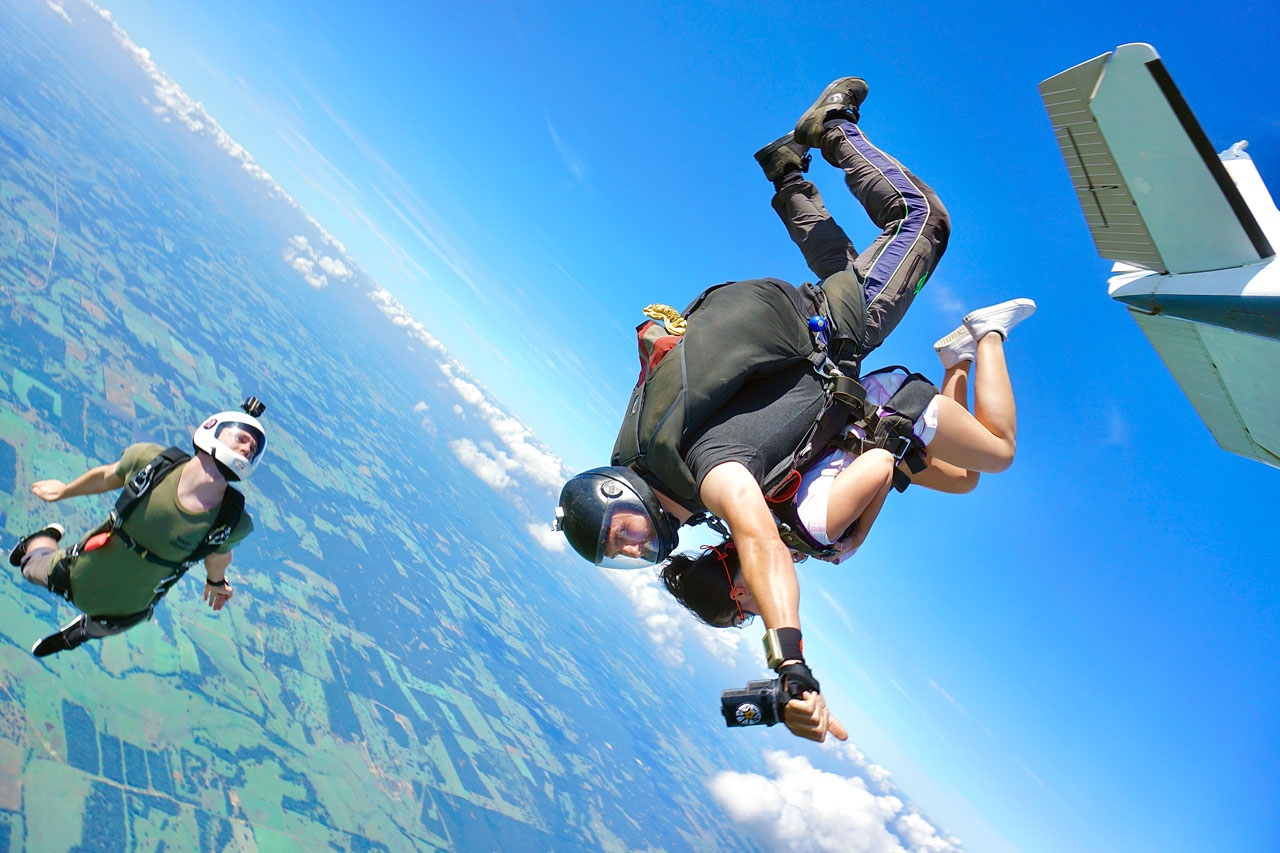 GO: TIME TO SKYDIVE!
On the Ground
You'll attend a 15 to 20 minute training session and then get kitted out with a tandem skydiving harness. This simple but genius gear securely attaches you to your USPA-certified instructor and to the parachute system on his/her back.
The Ride Up
When it's your time to fly, you'll board one of our perfectly-good planes and enjoy a short but scenic flight over the countryside until you're right at two miles up. When the pilot gives the go ahead, you and your instructor will crab crawl to the door and JUMP!
Freefall
This! This is the high skydivers chase. You quickly leave the fast-moving plane and fall faster, swiftly accelerating to 120 mph and hitting terminal velocity. You don't feel like you're falling at all; you feel like you're floating. No stomach drop. No freak out. Just WOOHOOOOO!!
Canopy Flight
After about a minute of freefall, your instructor will deploy the parachute and suddenly the sound of rushing wind will be silenced and everything will be peaceful and serene. For the next five to seven minutes, you'll float and glide. Let your instructor know if you want it mild or wild!
The Landing
You're not just a passenger. There are few parts of the tandem experience where you have a little work to do – and the landing is the main one. When your instructor gives the cue, you'll lift your legs straight up so s/he can land the pair of you easy peasy.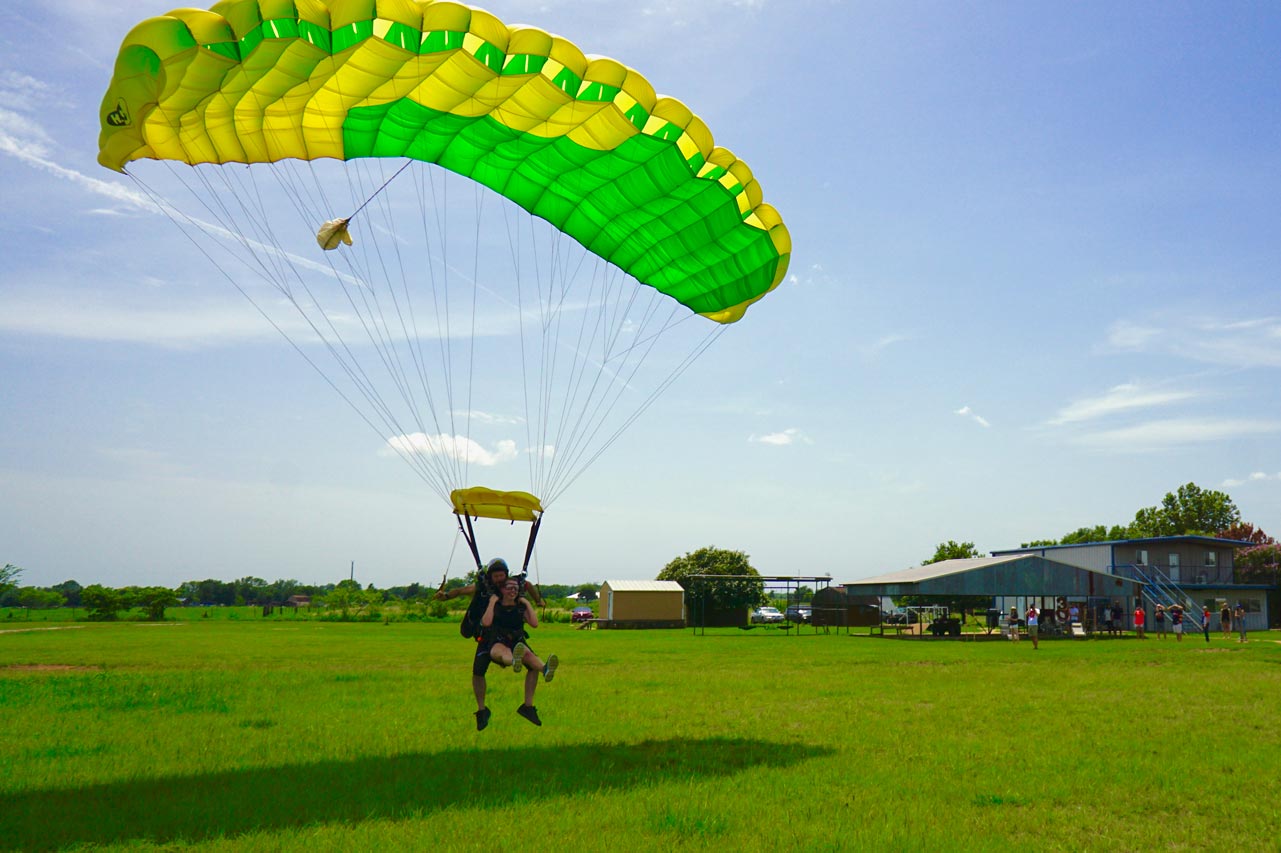 You Did It!
Once you're back on terra firma, it'll hit you. You flew! You SKYDIVED! And it was more epic than you could've possibly imagined! Now's the time to freak out!! Dance, sing; express yourself! We've seen it all – it never gets old! (You know what else never gets old? That video! You'll watch it over, and over, and over …)
—
Still have questions before you're ready to come jump with us (and our friendly llamas and donkeys)? Check out our FAQs, or give us a shout! We are here to help.