Tandem Skydiving
Skydive in Central Texas
Nothing Short of Life-Changing
Skydiving offers us one of life's most powerful and elusive gifts: human flight! It will blow your mind, transform your outlook, and might just change your life. Can you handle that? Then it's time for you to experience the freedom, exhilaration and empowerment of a tandem skydive! Texas Skydiving is the premier destination for tandem skydiving Austin and College Station, TX – we can't wait to share the sky with you!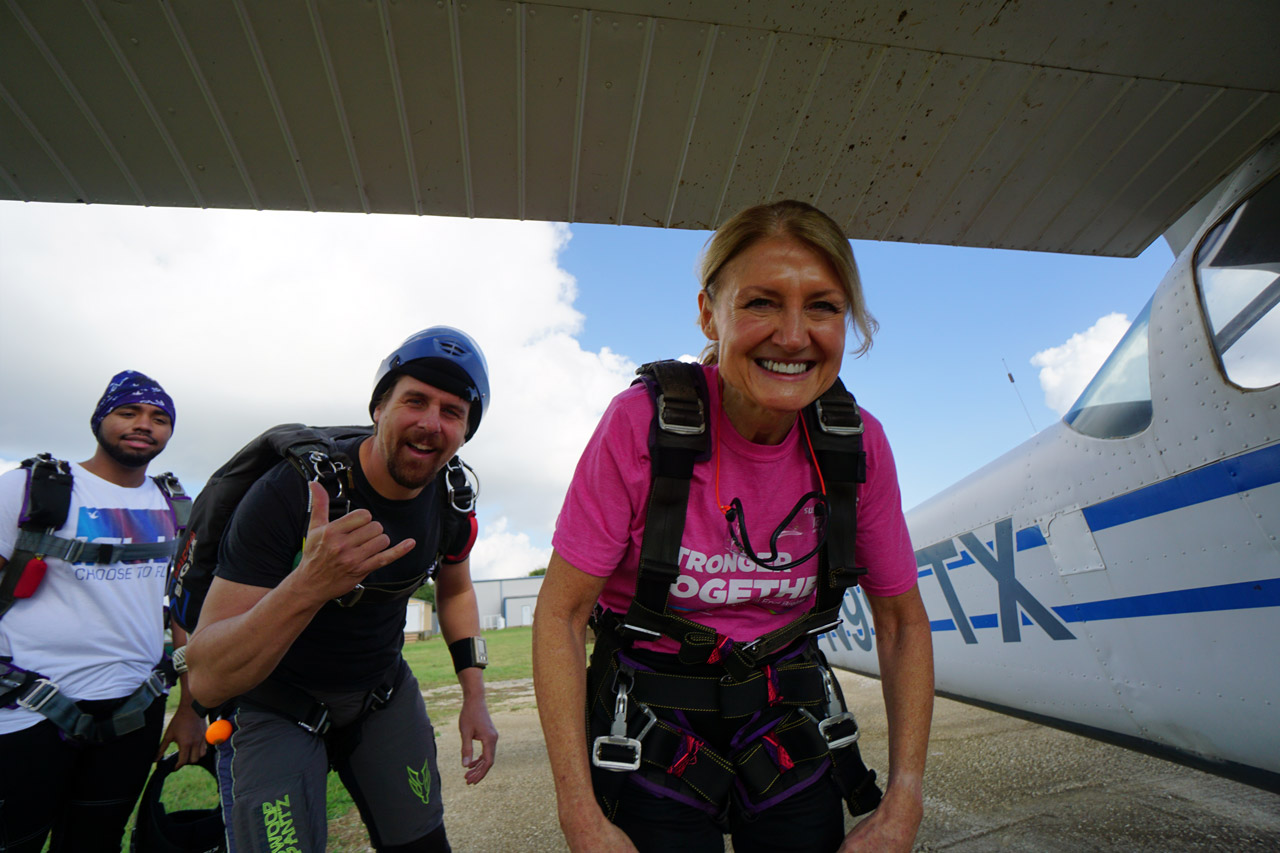 On The Ground
Sign in, complete your waiver and purchase your media package if you haven't already (seriously, it's worth it). Next, attend a 15 to 20 minute training session and get ready to fly! You'll step into a tandem skydiving harness that securely attaches you to your USPA-Certified instructor and to the parachute system.
Go Time!
When your load is called, you'll board one of our awesome planes, buckle up and prepare for takeoff! You'll enjoy a scenic ride over the ranch and the serene Central Texas countryside up to altitude. Once we hit 10,500 feet – two miles above the earth – you and your instructor will prepare to leap into the big blue yonder!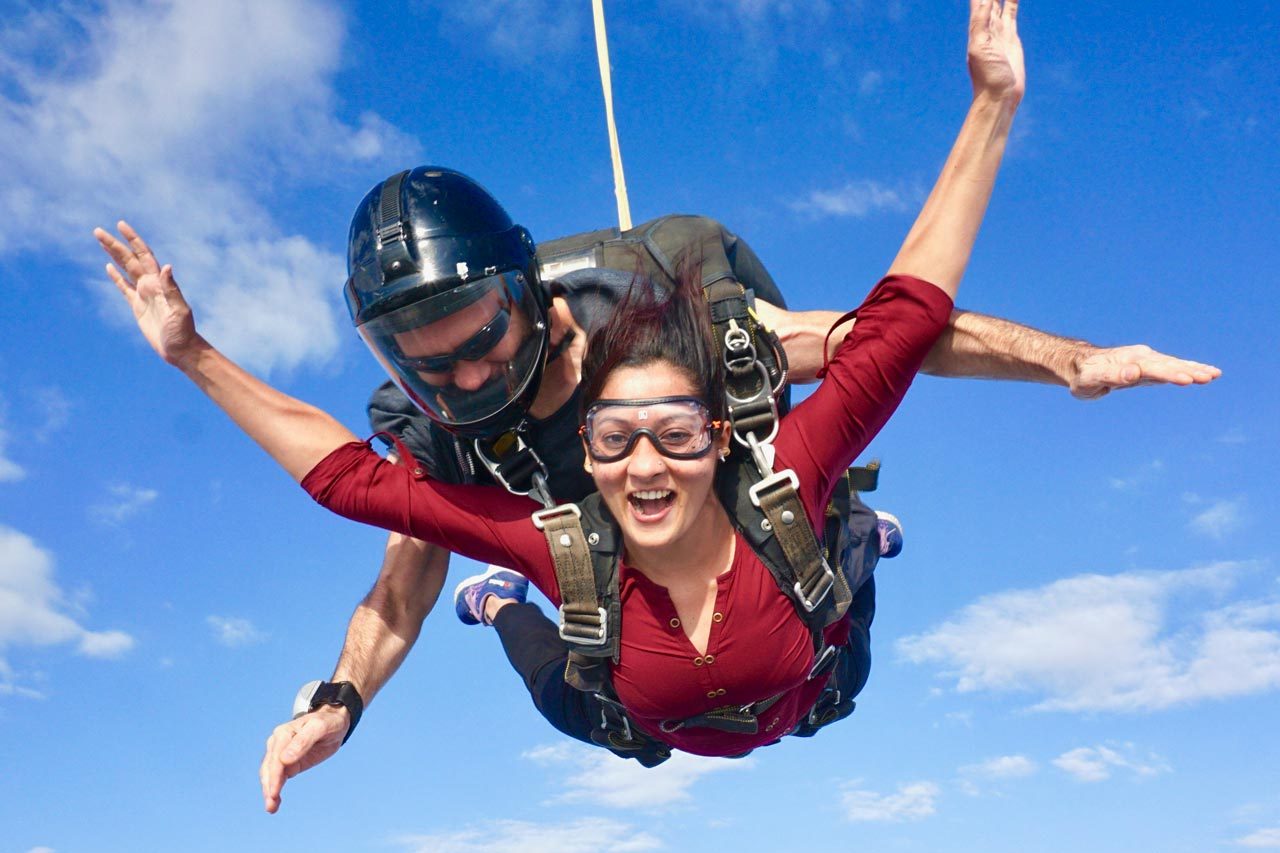 Freefall
As soon as you leave the plane, you will immediately enter into freefall as you FLY through the enormous Texas sky at 120mph. You'll never really feel like you're falling, but the feeling can be difficult to describe until you do it – an overwhelming sensation of pure freedom you just have to experience to understand. It's a rush like no other, guaranteed!
Canopy Flight
After 40 to 60 seconds of glorious freefall, your instructor will deploy the parachute and you will begin the peaceful five to seven minute descent to the ground. At this point, you'll be able to relax and enjoy the crisp, clean, fresh country breeze, speak with your instructor, and even take the toggles and steer as you glide through the air.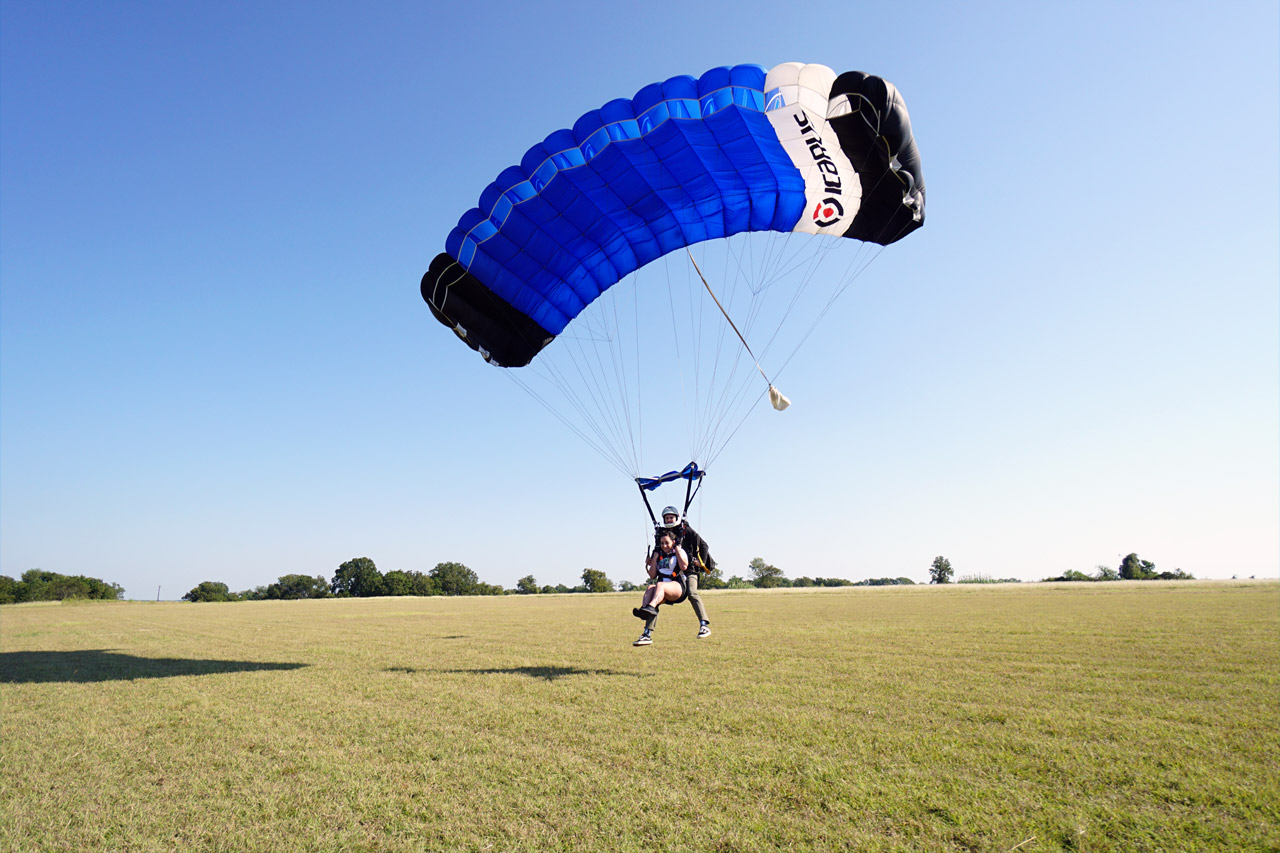 The Landing
Following your instructor's guidance makes landing easy and safe. To facilitate a smooth landing, you'll lift and hold your legs up while your instructor expertly glides the parachute back into home base. Now it's time to celebrate. You just accomplished the extraordinary! Do a happy dance, hug a donkey – let it out! You FLEW!
Skydiving Video & Photo Packages
Every aspect of your jump is way outside of the everyday – it's a lot to process. Don't miss the details of your skydive or skip the opportunity to share and commemorate your phenomenal experience: get a media package!
Our professional camera flyers and instructors can capture each breath-taking moment of your jump – from the tarmac to altitude and back again – so you can relive it again and again. (Plus, it's solid social media gold – don't forget to tag us: #texasskydiving)