Nothin' But
Blue Skies &
Good Vibes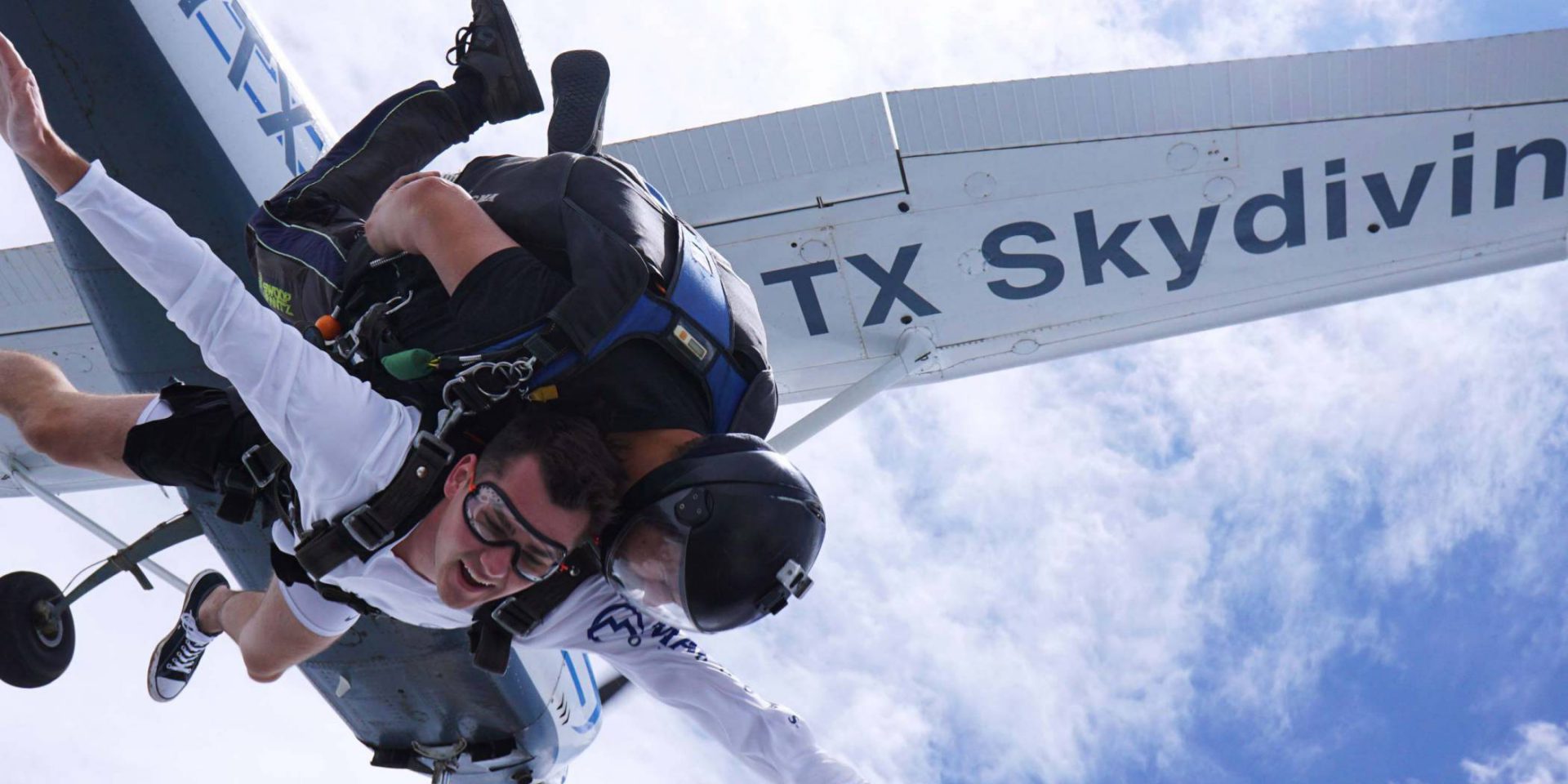 Welcome to Texas Skydiving!
We're a small dropzone with big dropzone amenities - which is just how we like it.
We've created a resort-style oasis right here in the Texas countryside, making for a memorable mini-vacation with a life-changing experience baked right in! Located just a short drive from Austin, College Station, San Antonio, and Houston, we're the #1 choice for skydiving in Central Texas.
Oh, and did we mention we're on a picture-perfect ranch complete with friendly, free-roaming farm animals?
Meet the Team
David Moore
Tandem Instructor, AFF Instructor, FAA Senior Rigger, Coach
8,100+ Total Jumps
Skydiving can be an awesome, perspective-changing singular experience, or it can be the beginning of a beautiful journey that lasts a lifetime. Whether you're "one-and-done", or go on to be a professional skydiver, you'll be so glad you did it!!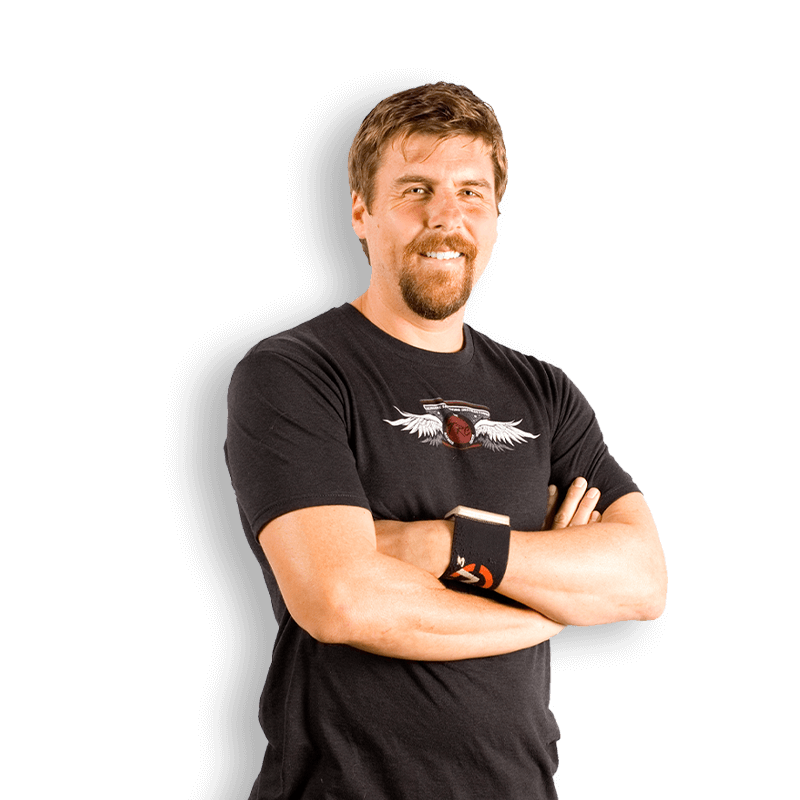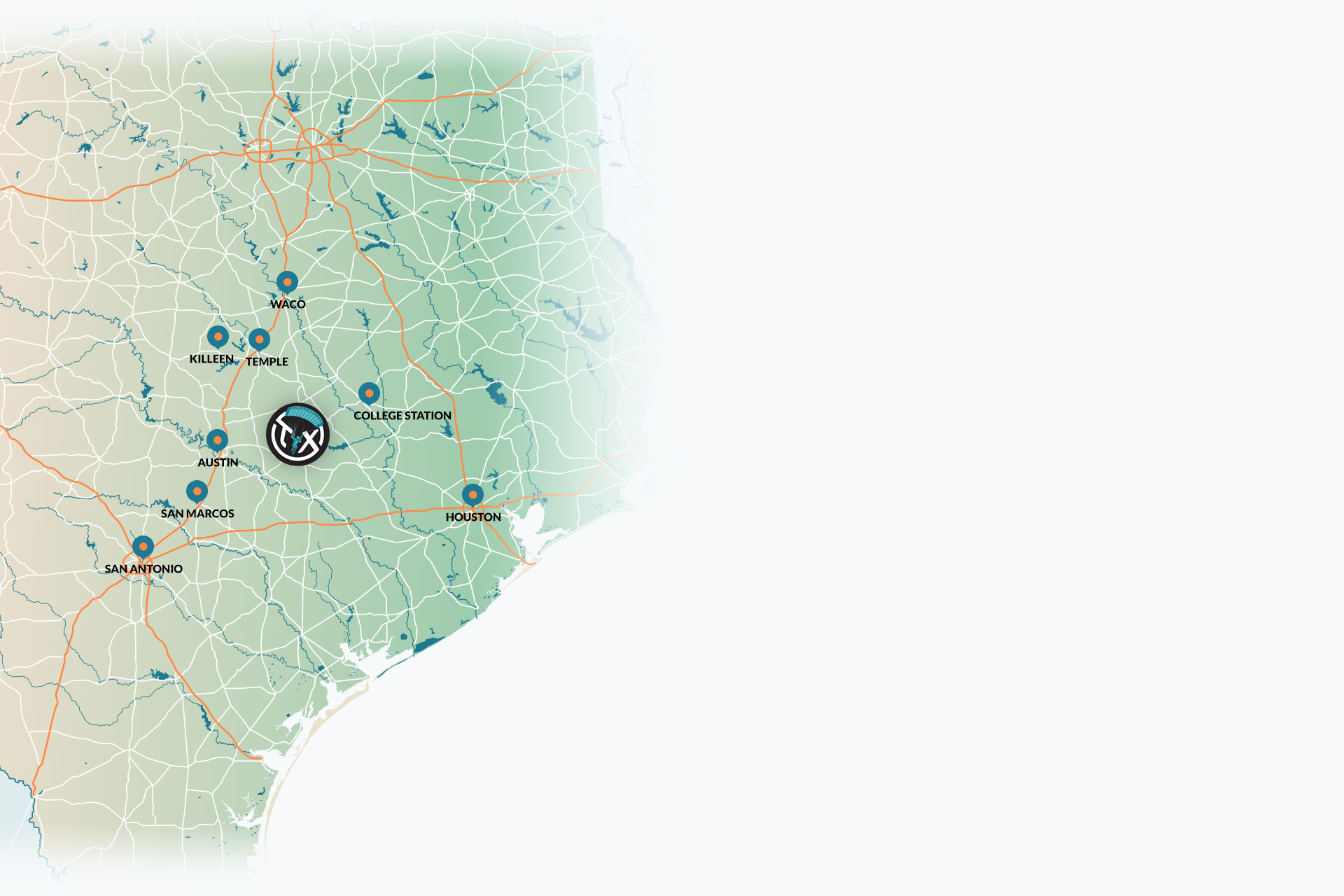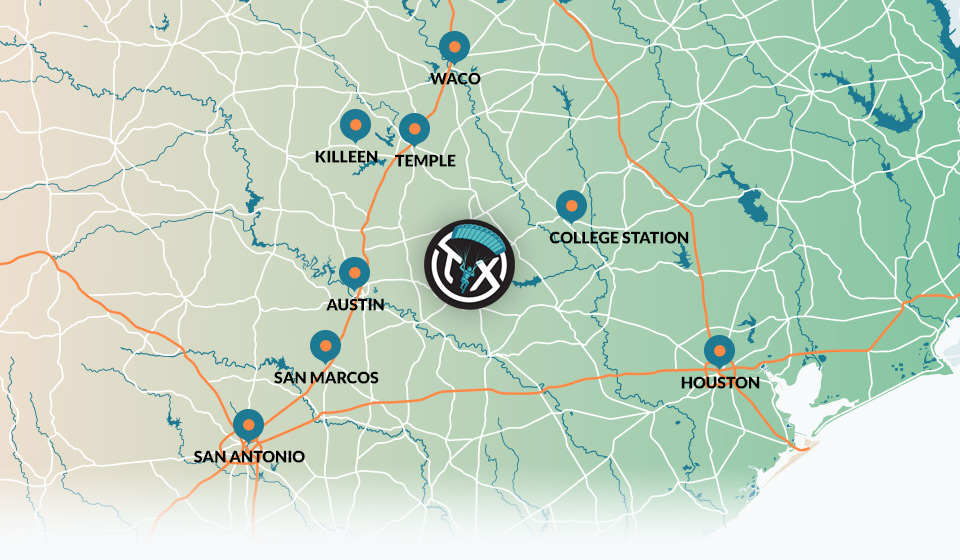 Our DZ Location
All Roads Lead to Texas Skydiving
Located in the heart of Texas, we're less than an hour east of Austin and west of College Station. Escape the traffic and stress of the big city with a pleasant country drive to our little slice of heaven. We're the destination for skydiving Austin, College Station, San Antonio, Houston and everywhere in between!
What Makes a Great Skydive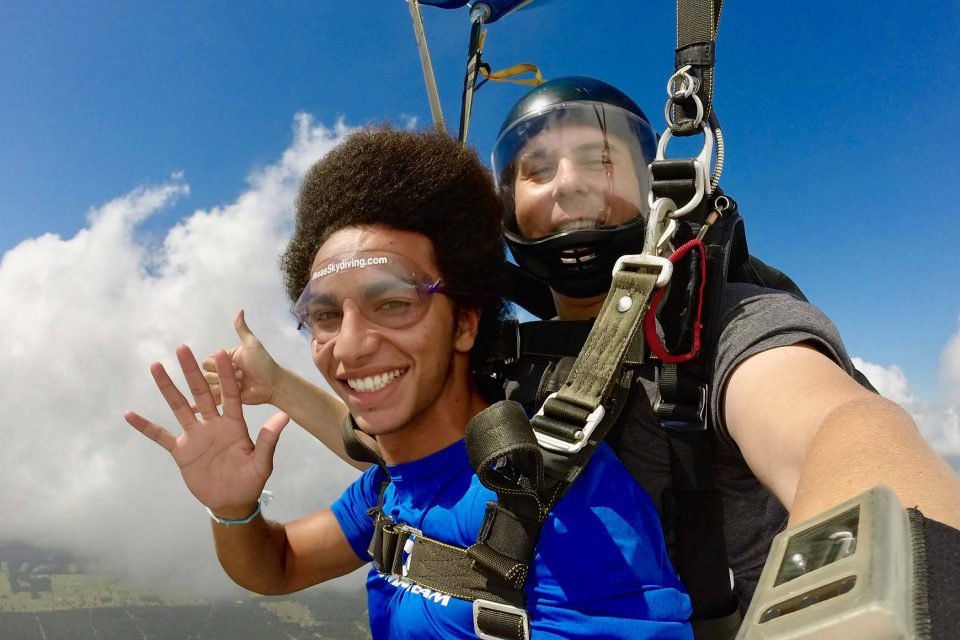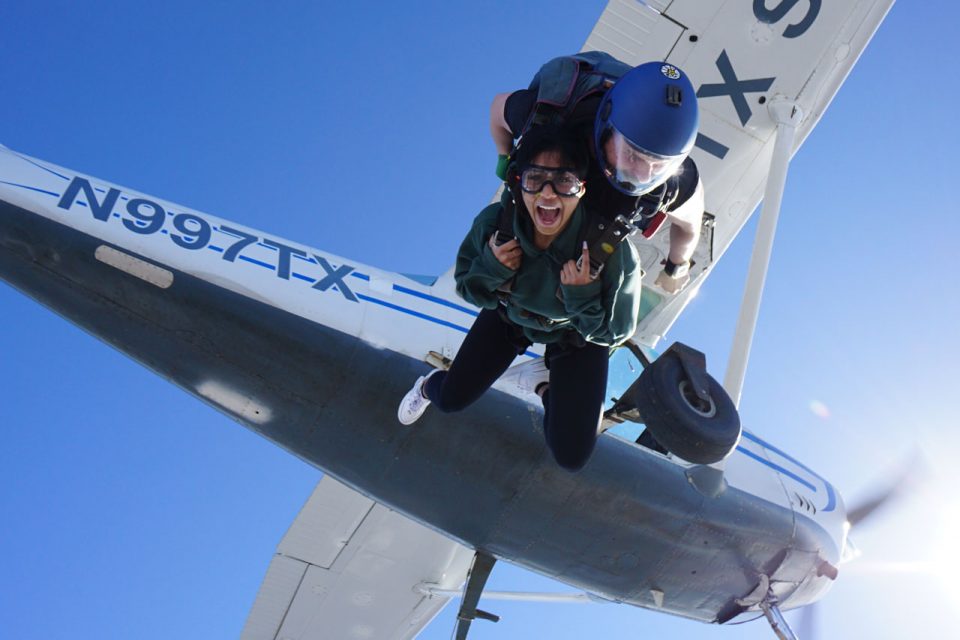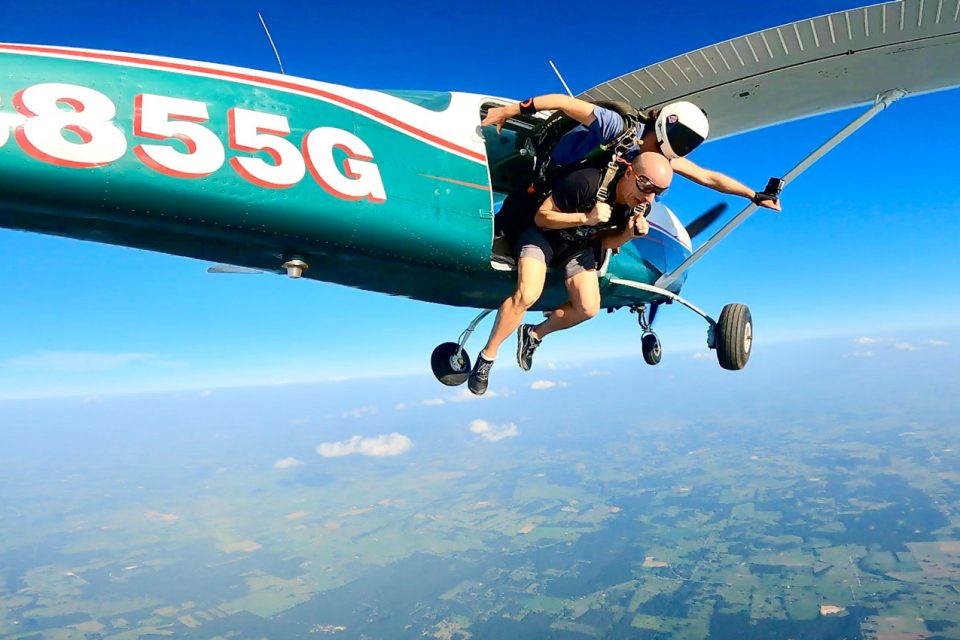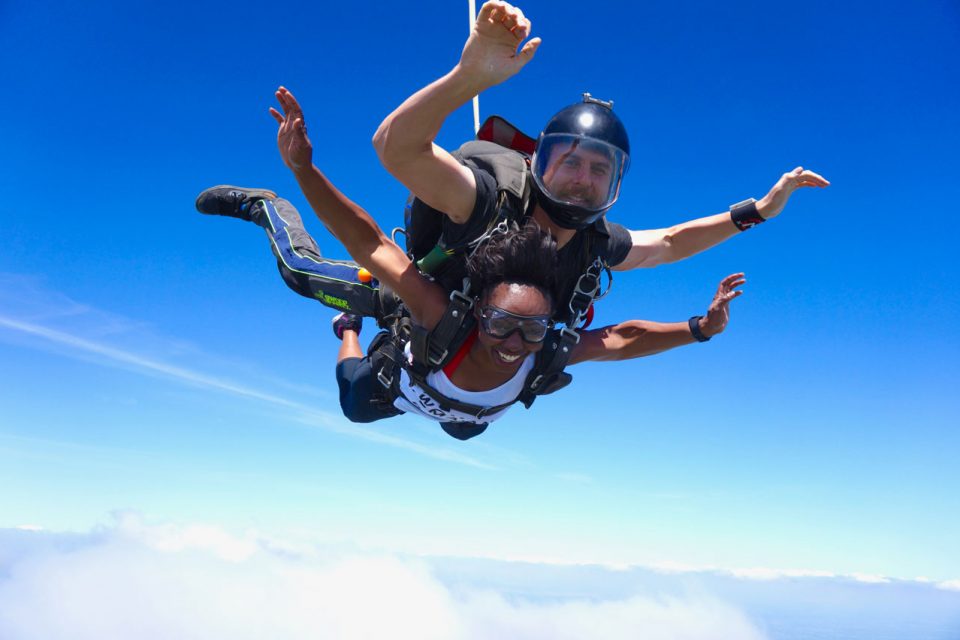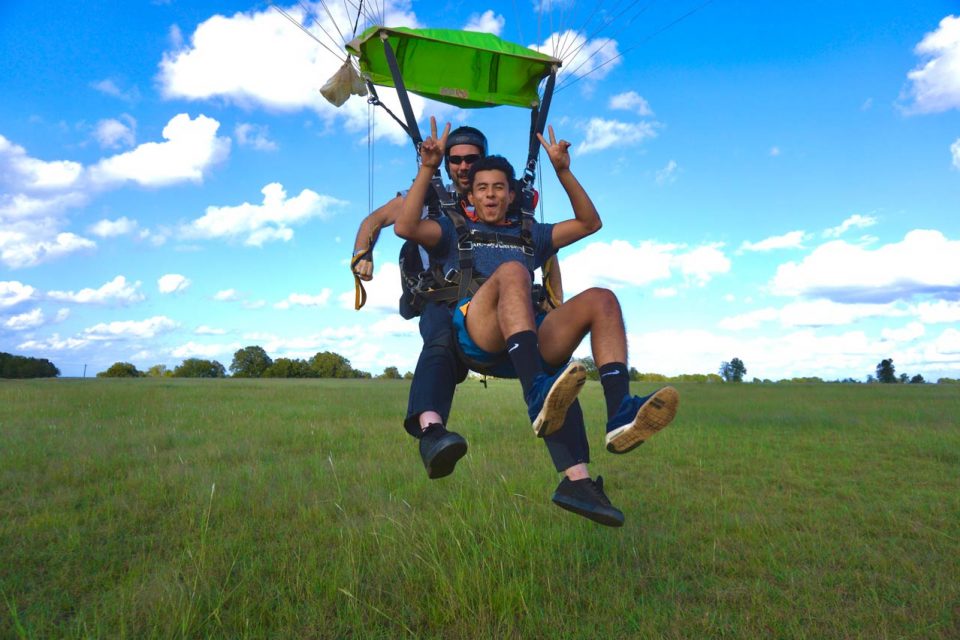 The People
Some large skydiving centers "turn and burn" – feeding the tandem factory to make bank. In that scenario, you're essentially just a number … and sometimes that's exactly how you feel.
At Texas Skydiving, you're our guest … and every jumper who flies with us feels it. We're low volume by choice to provide that personal touch. Our team is passionate about our sport, and crazy grateful that our job is to share it.
Culture of Safety
Skydiving is an extreme sport, y'all. Is it risky? Sure it is! That's part of the allure …
Mitigating risk requires keeping tabs on everything, which is why we meticulously maintain our aircraft, hire the best-of-the-best USPA-certified instructors, and own top-of-the-line equipment and gear that surpasses USPA and PIA standards. Statistically speaking, the typical morning commute is more risky than a skydive!
When it comes to safety, we don't mess around.
Price
You wouldn't choose your heart surgeon based on cost – and you shouldn't choose your skydiving experience based on cost either! Don't chase fool's gold: cheapest is by no means best.
Diligently maintaining aircraft, taking care of skydiving gear and equipment, retaining an A+ team, and keeping up our 100-acre campus comes at a high cost. We love our sport and those we share it with way too much to ever cut corners on safety.
Professionalism
This is our profession. We share once-in-a-lifetime memories with those wanting to jump tandem; teach those who want to progress in the sport; and welcome fun jumpers from around the world.
Our owner made his very first jump here over 13 years ago and immediately fell in love. He's been working ever since to make this the best little DZ in Texas. We're not fly-by-night and this is far from our first rodeo. We're serious about customer service and we're ready for some serious fun!
Preparation
We've thoughtfully designed an experience that'll literally blow your hair back and knock your socks off (tie your shoes on tight!). To have the time of your life, be sure to come prepared.
Get a good night's sleep. Arrive on time. Bring your ID. Drink water. (No alcohol until AFTER the jump.) Eat normally. Wear comfortable clothes. Choose lace up shoes. We'll take it from here!
Frequently Asked Questions
Is there a minimum age requirement to skydive?
We follow United States Parachute Association guidelines, which require all jumpers to be at least 18 years of age. Bring a valid, government-issued photo ID with you as proof of age. Sorry, permission from a parent or guardian is not acceptable.
Is there a weight limit to skydive?
Yes, students must be 250 lbs or less and height to weight proportionate in order to jump at Texas Skydiving. A fee of $30 will be applied to students over 220 lbs. Weight limits are  imposed by skydiving gear manufacturers for safety reasons; they are not intended to be discriminatory or exclusive.
What should I wear to skydive?
Dress appropriately for the weather. In warmer months, T-shirt and shorts are fine; when it's cold, layers are a good idea. Athletic shoes that lace up are best (tennis, skate, cross-trainers) – no open-toed shoes, heels, boots, or anything with hooks!
We'll ask that you empty your pockets, remove most jewelry, and tie back long hair before you skydive.
Can I bring a group skydiving?
You can and you should! Not only does sharing the experience make it all the more awesome, groups also get a discount. Groups of 6 to 9 people get $15 off per jumper; groups of 10 or more get $25 off per jumper!
What is your refund / reschedule / cancellation policy?
Every reservation requires a $50 non-refundable deposit per person.
To reschedule, you can follow the "Manage Booking" link in your confirmation email or contact us more than 48 hours prior to your scheduled arrival time to avoid forfeiting your deposit (rescheduling due to weather excepted). If you reschedule or cancel within 48 hours of your scheduled arrival time, you will forfeit your deposit. No-shows will be charged full price.